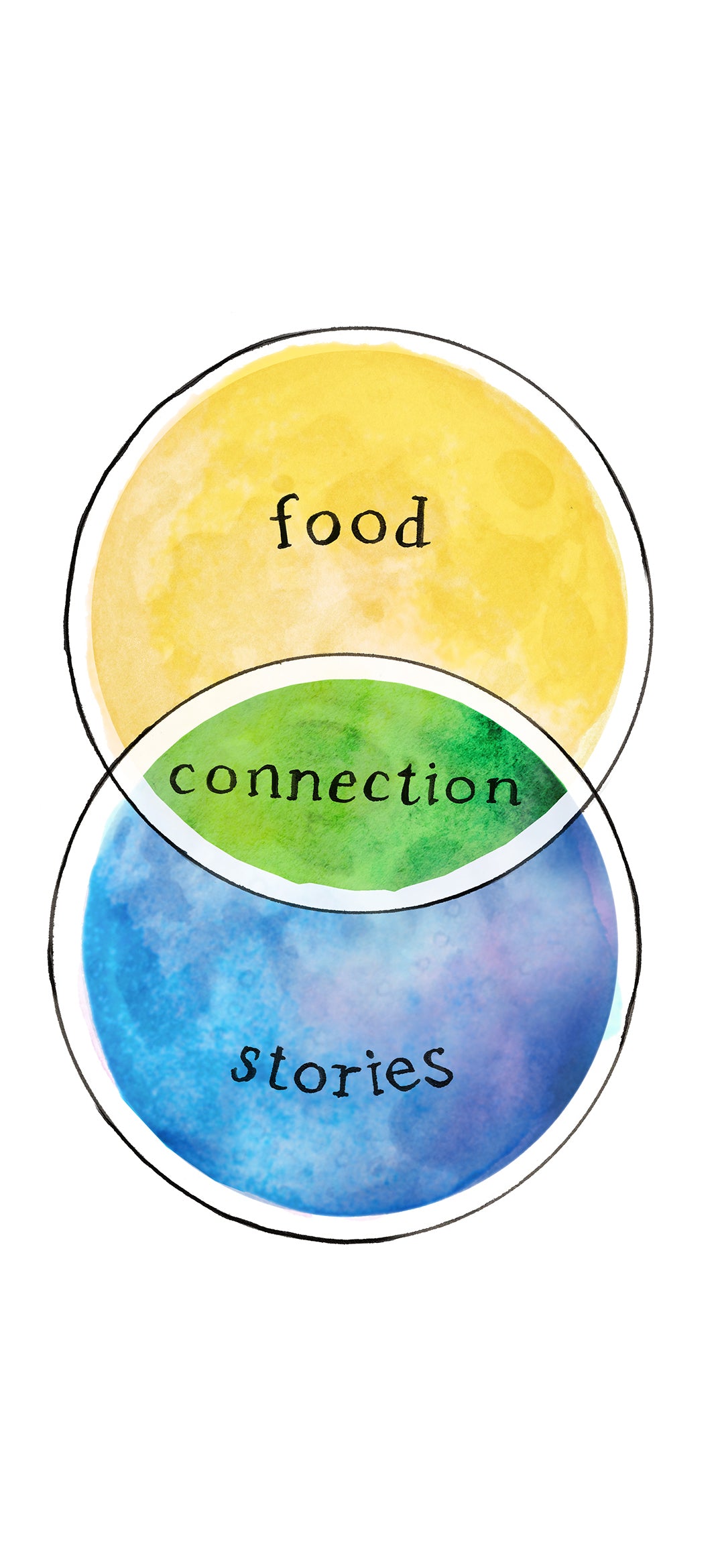 What are Blasta Books?
blasta (blastə) adj From the Irish language, meaning delicious, tasty,
appetising. Rhymes with pasta.
Blasta Books are changing the way that cookbooks are published in
order to make more room at the table.
Hardcover, small format and illustrated by Dublin artist Nicky Hooper, the cookbooks are released four times a year as a quarterly periodical series. 
Each volume is a standalone 72-page A5 cookbook, but as a collectible series they also provide a more inclusive snapshot of Ireland's modern and diverse food culture, from tacos to tapas, spice bags to sushi.
They are little books with big voices.
Meet the team
Kristin Jensen, publisher and editor
As a freelance editor, food writer and project manager, Kristin has worked on hundreds of books and tens of thousands of recipes, over the past 20 years for clients such as Penguin, Gill Books, Octopus and Musgraves. She's copyedited, proofread and developed recipes and collaborated with Ireland's best-known, award-winning food writers and chefs, including Neven Maguire, Darina Allen, Rory O'Connell, David and Stephen Flynn and many more. She has also co-authored two books, Saturday Pizzas at the Ballymaloe Cookery School (Ryland Peters & Small, 2017) and Sláinte: The Complete Guide to Irish Craft Beer and Cider (New Island, 2014) and is currently writing a cookbook to be published in spring 2023. She has also served as the secretary and the chair of the Irish Food Writers' Guild. Blasta Books is the culmination of two decades of specialist experience and expertise. When she's not pottering in the kitchen or got her nose stuck in a book, you'll find her walking for miles in the countryside with her dogs, probably listening to a podcast about food. @edibleireland
Jane Matthews, creative director

Jane has been designing to an international standard for over 30 years. Her career has seen her spend time in art houses in Boston, Toronto and Berlin before returning home to spend 12 years as Art Director for Image Publications. Following this Jane spent five years freelancing on projects for IMMA, Independent Newspapers, the Irish Times, Brown Thomas, Gill Books, O'Brien Press, Gloss Publications, Musgraves and Harmonia Publications. She has also worked with many start-up companies, rebranded some very established titles and mentored design teams through award-winning rebrands. Jane has won Designer of the Year at the Magazines Ireland Awards and many of the magazines she has rebranded have gone on to win Magazine of the Year, Cover of the Year and Design Team of the Year. Her love of a good curry has seen her travel most of Asia. She hasn't been everywhere yet, but it's on her list. @janematthews100

Nicky Hooper, series artist

Nicky was born at lunchtime and has been food obsessed ever since. She is as excited trying new foods as she is sitting down to the joyful nostalgia of a favourite dish and the memories it evokes. She finds food such a fascinating common denominator and instant insight into the belly of a culture, so she's never happier than following her nose through a food market in Italy, to eating a bowl of noodles under a railway arch in Tokyo, to cracking open a packet of Tayto with a pint of Guinness. She has been drawing ever since she could hold a pencil. @nickyhooper
Meet the rest of the family